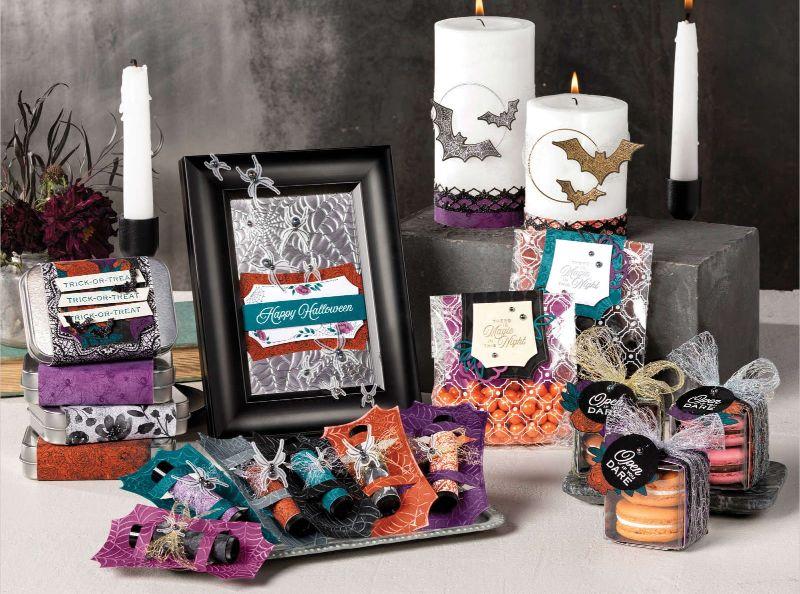 MAGIC IN THE NIGHT SUITE SUITE
This Halloween you can turn your home into a haunted mansion with touches of spooky elegance!
Whether it's a family gathering, or treats for all your ghoulish friends, the Magic in this Night Suite will help you create décor, cards, and treat packaging that is to scream for! There's no better time to do Halloween up big and make it extra-special. The detailed images, striking colours, and rich textures in this suite provide plenty of spooky inspiration for all your hauntingly beautiful projects.
Order today, so you can get your creative magic going before Halloween fades into the mist!
Below I'm sharing an elegantly spooky gift tin tutorial with you. I hope you enjoy creating and gifting this bewitching box!
Sincerely,
Elizabeth Ames
(Cards by Elizabeth)
Hostess Code for online orders in October is  CAWFVMJR 
--------------------------------------------------
Magic in this Night Rectangle Tin
Join my Email Newsletter List and receive my tutorials by email. With each mailing you will receive a picture of the finished project, a supply list, card layout, and a step-by-step tutorial.  
SUPPLIES
:
Hallows Night Magic Bundle (#155188)
INK
: VersaMark (#102283), Blackberry Bliss Ink Refill (#133648)
PAPER
: Basic Black cardstock (#121045), Black Glitter Paper (#153518)
TOOLS
: Basic Pattern Decorative Masks (#150697), Palette Knives (#142808), Heat Tool (#129053), Stampin' Cut Y Emboss Machine (#149653), Optional - Silicone Craft Sheet (#127853)
EMBELLISHMENTS
: 1-1/2" Metallic Mesh Ribbon (#153550), Black 3/8" Glittered Organdy Ribbon (#147897), Shimmery White Embossing Paste (#145645), White Stampin' Emboss Powder (#109132), Rectangle Tin (#153519)
ADHESIVES
: Mini Glue Dots (#103683) or Stampin' SEAL+ (#149699)
TIPS:
The Rectangle Tin is a hinged silver box that measures 4" x 2-3/4" x 1". Fill the box with individually wrapped candies, a couple spookily decorated cookies, a gift card, spider rings or other Halloween themed toys, or even scavenger hunt clues. So many ways to make someone's day with this magically, spooky box.
Coordinating Products
VIEW OUR SUITES ONLINE
DOWNLOAD OUR LATEST CATALOGUE